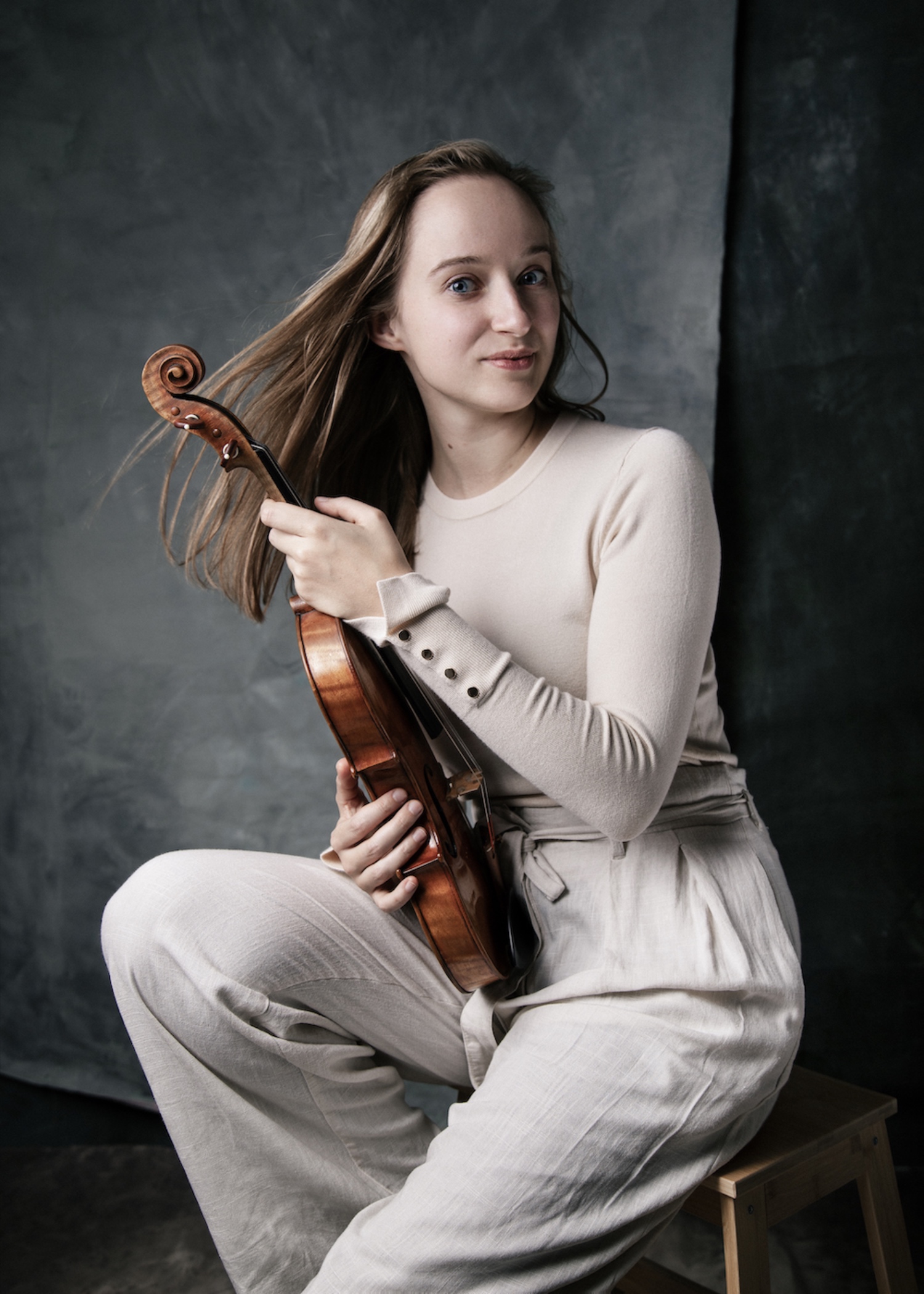 Picture by Anna Tena.
Veronique De Raedemaeker (born 1996) is a Belgian violinist living in Cologne.

She is laureate of several national and international violin and chamber music competitions, including Young Belgian Talent, Internationaler Anton Rubinstein Wettbewerb, Concours Breughel, Belfius Classics, interner Kammermusikwettbewerb HfMT Köln, Internationaler Violinwettbewerb der Kulturstiftung Hohenlohe and Vieuxtemps Concours. From 2020 - 2022 she was a scholarship holder of the Werner Richard Dr. Carl Dörken Foundation, which selected her for the concert tour Best of NRW in 2021.

Veronique began her violin studies with Francis Reusens at the Academy for Music, Word and Dance in Lier, Belgium. After combining studies in Greek - Mathematics and "Jong Conservatorium," she graduated from the Royal Conservatory of Antwerp in 2016 with a Bachelor of Music with Alissa Margulis. Under the guidance of Barnabás Kelemen, she obtained the highest distinction for the Master's degree in Violin Solo and Neue Musik at the Hochschule für Musik und Tanz Cologne, where she completed the Konzertexamen degree with "summa cum laude" in the class of Mikhail Ovrutsky in 2023.

Parallel to this, she learned from renowned musicians such as Philippe Graffin at the Royal Conservatory of Brussels, Ivry Gitlis, Julia Fisher, Tatiana Samouil, David Quiggle, Frank Peter Zimmerman, Pavel Vernikov, Paulo Álvares, Görgyi Pauk, András Keller and attended master classes at the Verbier Festival, Lugano Festival, Schiermonnikoog Young Talent Festival, Festival Académie Ravel, Budapest Festival Academy, Musica Mundi e. a. Veronique has been invited to perform during the past years at the Klavierfestival Ruhr Festival, Arte Amanti Festival, Festival Rencontres musicales internationales Enghien and Acht Brücken Festival Köln.

Recent performances include violin concertos by Beethoven, Mendelssohn and Brahms, solo performances with Köln Sinfonietta, Gödölö Symphony Orchestra, East Flemish Symphony Orchestra and St. Petersburg Russian Chamber Philharmonic. She has performed in concert halls such as Flagey & Bozar Brussels, Amuz Antwerp, Miry & De Bijloke Ghent, Philharmonie Köln, WDR Funkhaus and Tonhalle Düsseldorf. In November 2023, she performs Beethoven's Triple Concerto at the Elizabeth Hall in Antwerp.

A very passionate chamber musician, she regularly performes with her own ensembles Trio Gilu, Oreneta Kammerensemble, ÉRMA Ensemble and in Duo with pianist Alexander Declercq and Anton Gerzenberg.

Her CD Malinconia with works by Prokofiev and Ysaÿe was praised for its "richness in sound and instinctively beautiful phrasing" and was awarded the Choice of the Klara label by the Flemish Radio in 2020. In 2022 she released with her Trio Gilu the CD "Garland - Songs for Soprano, Violin and Harp" and in 2023 two singles "Bach and Berio - a dyptich". All of her publications have been released by Etcetera Records.

Her fascination for new music allows her to collaborate with contemporary composers such as Unsuk Chin, Helmut Lachenmann Heinz Holliger and many more. She is a founding member of the ÉRMA Ensemble which is supported by Deutscher Musikrat and specializes in new music.

Veronique plays on a violin by Stefan-Peter Greiner (Bonn 2005), provided by Yehudi Menuhin Live Music Now Köln e.V.. She is artist in residence of SWUK 2022-2023.